أخبار الفريق الأول
1
Yaya revels in Pep's licence to thrill
Yaya Toure has praised the style of football Manchester City have developed under Pep Guardiola.
The Ivorian midfielder, 33, says he is revelling in a side that plays on the front foot and looks to take the game to the opposition.
City have scored 95 goals in all competitions this season, with the pace and vibrancy in their attack making them one of the most exciting teams in Europe going forward – and Toure feels it's an approach that suits him.
"We all want to play like this," he said. "Myself, I don't want to be in a defensive team. Defending is something difficult. As a player who likes football it is annoying to defend all the time.
"The style we play now is the best style.
"Of course, we try to do our best, we always have chances to score, clear chances.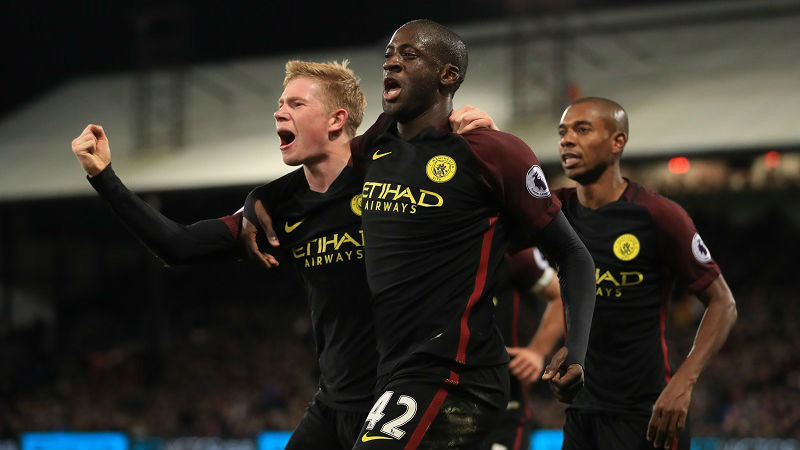 KEY OPERATOR: Yaya Toure hasn't looked back since returning to the City side last November
"We missed them against Liverpool (on Sunday) but sometimes you have to accept that because we've been playing a lot of games this month, every three days, and maybe this cost us a little bit."
City face Arsenal at the Emirates Stadium when the Premier League resumes next weekend, quickly followed by a trip to Stamford Bridge three days later – two games that will go a long way in determining the Blues' top-four chances.
The Blues currently lie third in the table and find themselves involved in a battle to finish in the Champions League places, with just seven points separating second and fifth.
Toure will use the international break to rest and recover from his recent exertions and says he is targeting six points from City's next two fixtures.
"We have to prepare now for the next game," he said.
"(In the international break) I will breathe, sleep, run a little bit, be good - because Arsenal and Chelsea are massive games and we have an opportunity if we want to finish in the top four.
"What we have to do when we come back is get these six points and try to do our best because we know it's gonna be tough."
LEADING LIGHT: Yaya Toure says he is relishing playing under Pep Guardiola again
City have sometimes found it difficult to break down opponents at home this season, with the majority of teams coming to the Etihad Stadium and looking to sit back and frustrate them.
Their away record, though, is impressive, with 10 wins from their 14 league games on the road so far this term.
Toure believes it's easier for City to play away from home and says playing Arsenal and Chelsea away could well suit them.
"It suits us because the opponent is gonna attack us," he said. "That's what we want. We are delighted when a team tries to attack us.
"You can see how few teams try to attack us, even when we play at home. When you see players like (Leroy) Sane and Raheem (Sterling), they need space and playing away is always brilliant for us.
"But we're gonna see because Chelsea are very good but in football anything can happen."