Standard Article
1
City Women's management team unveiled
Leigh Wood Right MF3B2686.jpg
As Manchester City Women prepare for their FA Women's Super League debut, the Club is delighted to announce the management team for the forthcoming season.
Nick Cushing, who has occupied various coaching roles within City over the past seven years, has been appointed First Team Manager while Leigh Wood will continue his long-standing involvement with the women's team as Head Coach.
The pair will be assisted by coach Kevin Sims and goalkeeping coach Kurt de Klerk.
The Sky Blues will join Arsenal Ladies, Birmingham City Ladies, Bristol Academy WFC, Chelsea Ladies, Everton Ladies, Notts County Ladies and Liverpool Ladies in the first tier of the newly formed league which kicks off in March 2014.
"It's a very exciting day for us. We want to play a major role in the WSL and a major role in women's football. We're building a very exciting project, we're taking it very seriously and we're very much looking forward to getting started," said Cushing.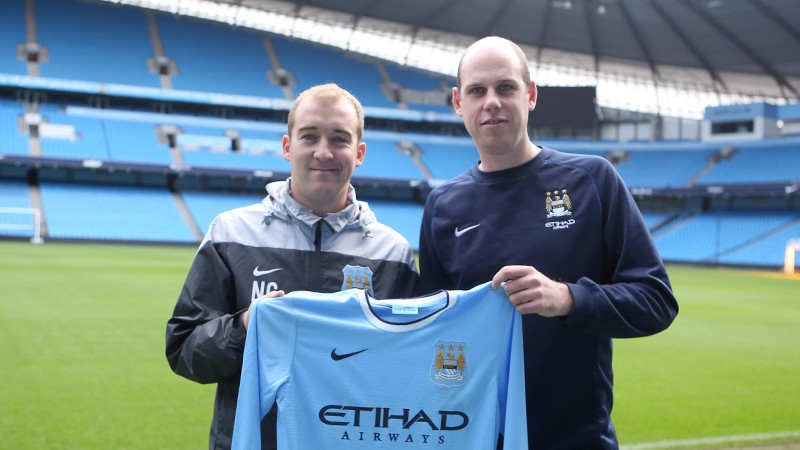 "It's a new league and a new adventure for us, but our aim is to be as competitive as we can. We've got a core bunch of players, but we need to build a bigger squad and develop the culture and environment of the team – that's very important to us, but we're looking forward to the challenge."
The squad will begin their pre-season training in January and will play their games at the new City Football Academy when the development is complete.
"I've been with the club for seven years and I'm delighted that I will be involved in this exciting new chapter for Manchester City Women," said Wood.
"The team has gone from strength to strength over the years, from struggling to stay in the Northern Division to winning that league and to have held our own in the Women's Premier League- it has been a great journey. We're now really looking forward to the start of the Super League.
"When you look at where we were seven years ago to where we are now, it's completely different. The fact that Manchester City is fully committed to making the women's team as competitive as it can be is very exciting and we now have all the support we need.
"Not so long ago, every women's team was an amateur team. Since the introduction of the WSL three years ago, the standard of women's football has increased massively and the fact that the FA has announced their new strategy called 'Game Changer' and there's going to be two divisions in the WSL, I think it'll only go from strength to strength."
Commenting on the appointments, Head of Women's Football at City, Gavin Makel said: "We're delighted to have two people with a vast amount of coaching experience. Nick's coaching expertise has been invaluable during his time at the club and I'm delighted that he has agreed to take on this role. He is very highly regarded within the club."
"Leigh knows the women's game inside out and has been a huge part of bringing the girls to where they are to date. We believe himself and Nick with form a fantastic partnership."